Tech valuations could get worse. Here's why we're still optimistic
[ad_1]

After a two-year epic run in tech stocks, 2022 has been an epically bad year in the market. Through yesterday, the Nasdaq composite index is down 30%, the S&P 500 is off 21%, the Dow Jones Industrial Average is down 16% and the poor HODLers of bitcoin have had to endure a nearly 60% decline year-to-date.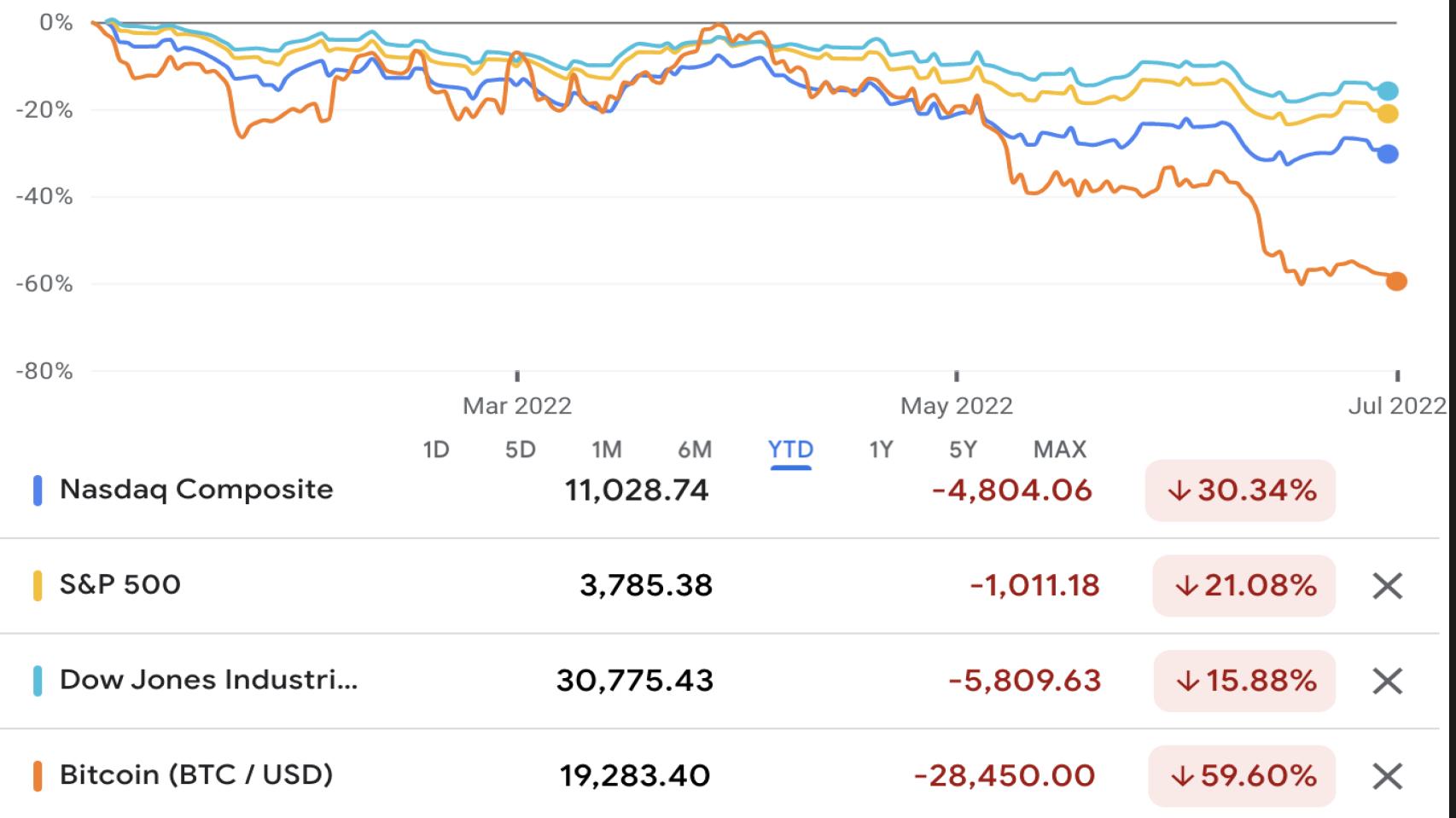 But judging by the attendance and enthusiasm at major in-person tech events this spring, you'd never know that tech was in the tank. Moreover, walking around the streets of Las Vegas, where most tech conferences are held, one can't help but notice that the good folks of Main Street don't seem the least bit concerned that the economy is headed for a recession.
In this Breaking Analysis, we'll share our main takeaways from the first half of 2022 and talk about the outlook for tech going forward — and why, despite some pretty concerning headwinds, we remain sanguine about tech generally but especially enterprise tech.
'It's the economy, stupid'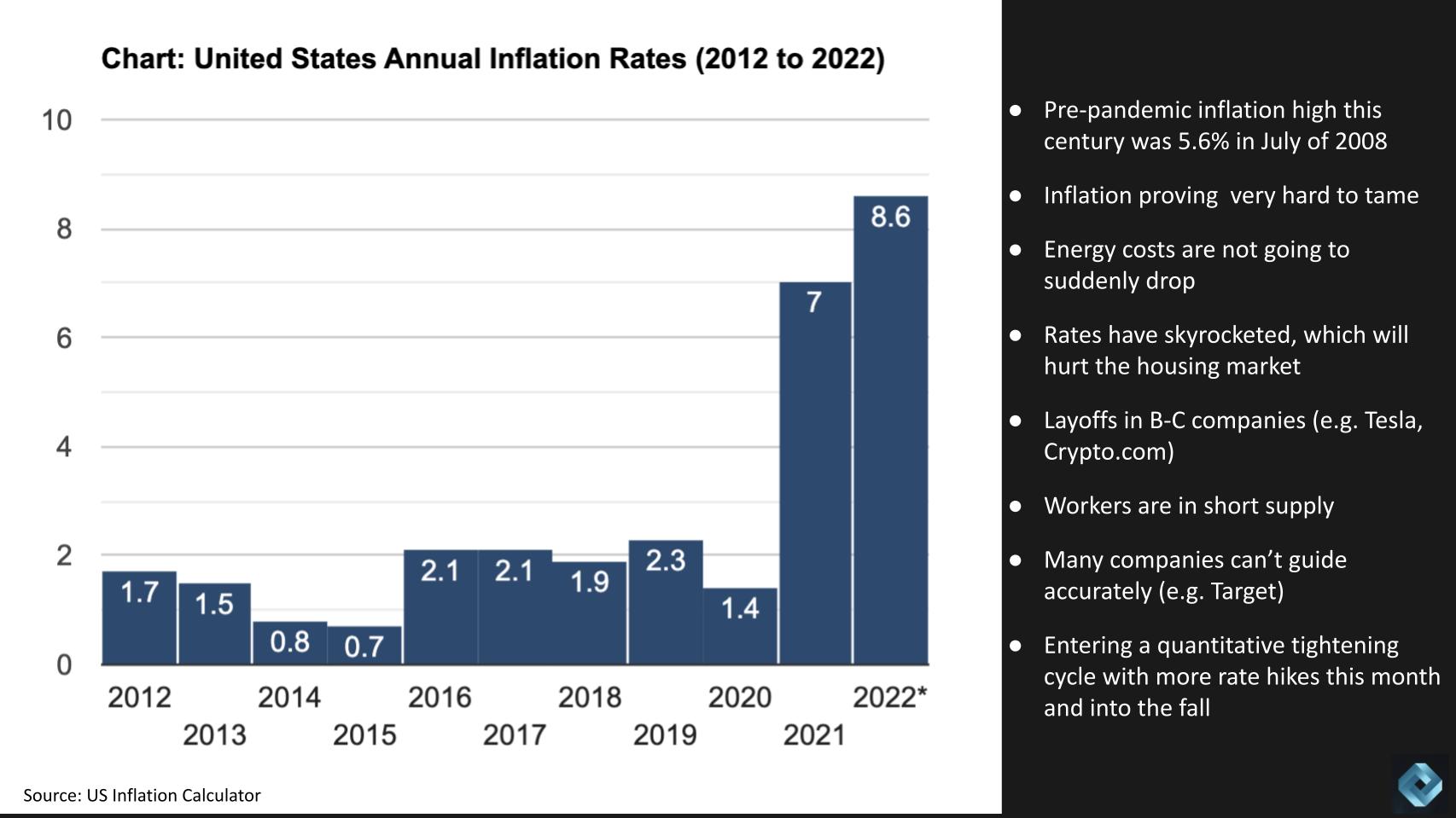 Inflation is high and sticky. Other than last year, the previous inflation high this century was in July 2008, hitting 5.6%. Inflation is proving to be very hard to control. Gas is $7 a gallon in many places and energy prices aren't going to drop suddenly. Interest rates are climbing which will eventually ripple through to the housing market.
We're seeing layoffs at companies such as Tesla Inc. and the cryptocurrency names. Yet workers are still in short supply and so wages are rising. Retailers are struggling to find the right inventory mix and firms such as Target Stores Inc. and Walmart Inc. can't confidently guide on earnings.
We've seen a version of this movie before. But we don't believe it's Y2K all over again. That bubble burst mainly because the run-up was fueled by companies with shaky or no viable business models. This time around we've seen an overly exuberant market for high growth and legitimately good companies that got a slingshot effect from the pandemic. And suddenly, with interests rates rising, other value investments look more profitable when the quants run the discounted cash flow models.
As it pertains to the tech sector specifically, Crawford Del Prete, chief executive of International Data Corp., broke it down on theCUBE. Here's how he sees it:
Eighty percent of companies used COVID as their point to pivot into digital transformation, and to invest in a different way. What we saw is that tech is now where companies need to focus. They need to invest in tech. They need to make people more productive with tech and it played out in the numbers.

Now, this year what's fascinating is we're looking at two vastly different markets. We've got gasoline at $7 a gallon. We've got that affecting food prices. Interesting fun fact, recently, it now costs over $1,000 to fill an 18 Wheeler. So, if you think about it, a family has kind of this bag of money. And that bag of money goes up by maybe 3% to 4% every year, depending upon earnings. So if food and fuel and rent are taking up more of the family budget, gadgets and consumer tech are not going to be prioritized. You're going to use that iPhone a little longer. You're going to use that Android phone a little longer. You're going to use that TV a little longer. So, consumer tech is getting crushed. You saw it immediately in ad spending at Meta and Facebook. Consumer tech is very, very tough.

But enterprise tech is different. We haven't been in the office for two and a half years. We haven't upgraded whether that be campus wifi, whether that be servers, whether that be commercial PCs, as much as we would have. So, in enterprise tech, we're seeing double-digit order rates, we're seeing strong, strong demand. We have combined that with a component shortage and you're seeing some enterprise companies with a quarter of backlog. I mean, that's really unheard of.
Listen to IDC CEO Crawford Del Prete explain the spending dynamics in consumer versus enterprise tech today.
The same song is playing at major tech events: Face-to-face is back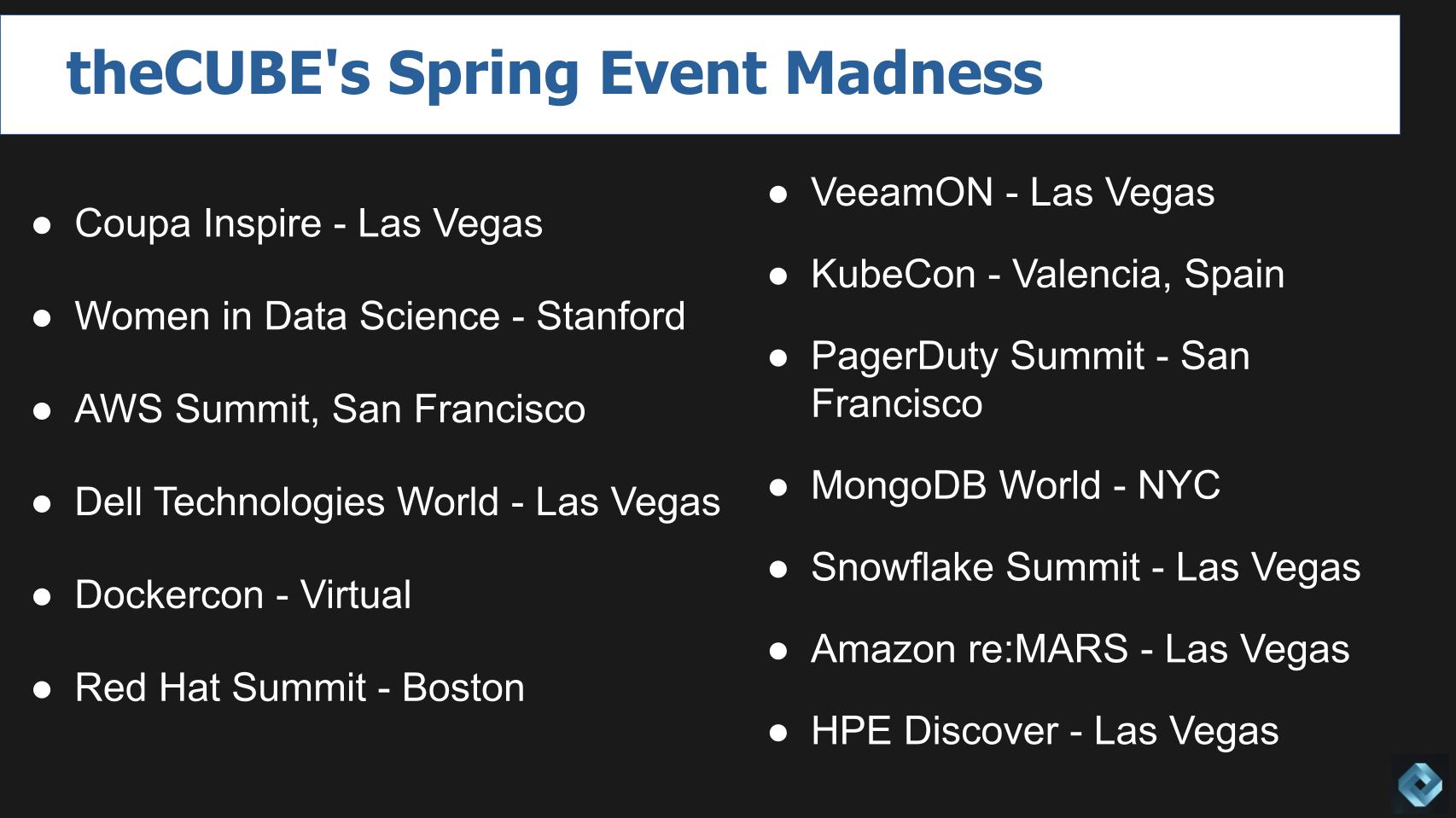 Late last year, theCUBE had a huge presence at AWS re:Invent, the first in-person re:Invent since 2019. And it was really well-attended. Now this was before the effects of the Omicron variant were really understood. And in the first quarter of 2022, things were pretty quiet as far as tech events go.
But we've been busy this spring and early summer with 12 physical events, as shown on this slide above. Coupa Inspire, Women in Data Science at Stanford… both smaller but well-attended events. SF Summit for AWS was a bit off, frankly with COVID concerns on the rise. But then we hit Dell Tech World, which was packed with around 7,000 attendees. DockerCon was virtual but we include it in this list because it was a huge global event with many tens of thousands watching at watch parties around the world.
Red Hat Summit was really interesting. It was purposefully scaled down and turned into a smaller VIP event in Boston at the Westin… a couple thousand people only – very intimate with a much larger virtual audience. VeeamON was very well-attended, not as large as previous versions but better than expected and very energetic. KubeCon+Cloud NativeCon was very successful in Spain and PagerDuty Summit was a smaller, intimate event in San Francisco.
Then the data-focused shows started to hit. MongoDB World was at the new Javits Center and was really well-attended over the three-day period – lots of developers and businesspeople. Then the Snowflake Summit in Las Vegas – it was the most vibrant from the standpoint of the ecosystem, with nearly 10,000 attendees; we'll come back to that in a moment. Re:MARS is Amazon's AI/robotics event – smaller but a very cool content program.
And just last week, HPE Discover had about 8,000 people attending. TheCUBE has been to a dozen or more Discover events in the U.S. and Europe over the past decade and this was by far the most vibrant, with the best messaging clarity and focus.
HPE's global director of technical marketing described the comeback in face-to-face perfectly in this clip.
So we see tech events are back, but they're a bit smaller with a virtual overlay. They're hybrid. And just to give you some context: SiliconANGLE executed on 12 physical events in the first half of 2022. In 2019, through June of that year, we had done 35 physical events. Yeah… 35.
And what's perhaps more interesting is we had the biggest first half in our 12-year history this year… because we're doing so much hybrid and virtual to complement the physical. The new format is CUBE + Digital.
Everyone's still trying to figure it out, but it's clear that events are back and there's no replacing face-to-face; or belly-to-belly as we like to say. Because deals are done at physical events. Pipelines are stronger coming out of physical events. But the post-event virtual continues to deliver the long-tail effect.
The bottom line is that hybrid is the new model.
Themes in first-half 2022: It always comes back to data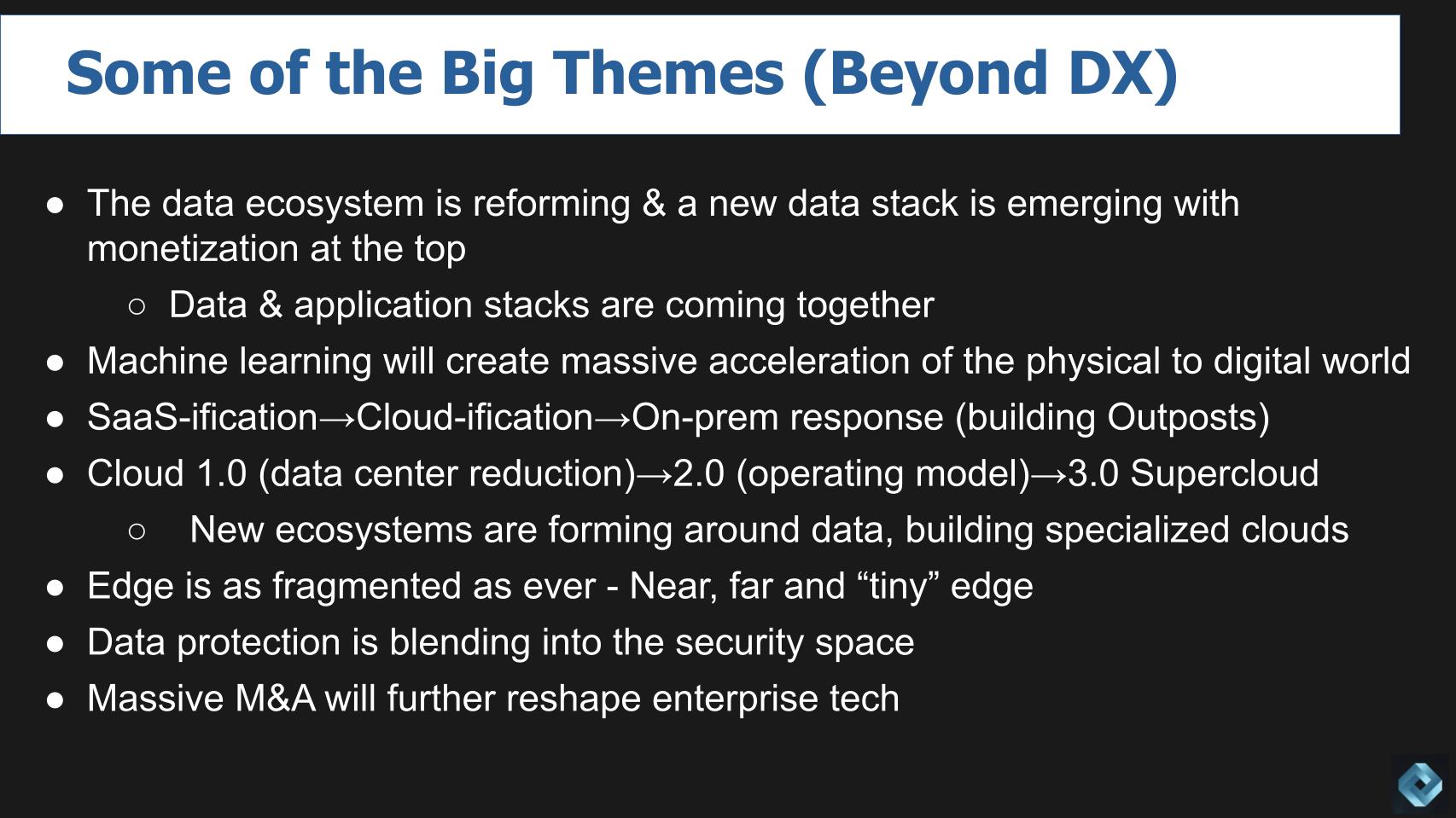 Of course, the one megatrend that is everything is happening under the umbrella of digital transformation. We won't talk about that too much – you've had plenty of DX Kool-Aid injected into your veins the past 27 months.
Data ecosystems are re-forming – Snowflake has the lead
One of the first observations we'll share is that the so-called big data ecosystem that was evident during the Hadoop years – and then dispersed thanks to cloud computing – is beginning to coalesce again. There are obviously large pockets in the various clouds, especially Amazon Web Services Inc. And we definitely see an ecosystem forming around MongoDB Inc.. And the open source community gathering in the Databricks Inc. ecosystem. Databricks coming at it hard from an open-source technology angle, but its inability to make it to an initial public offering during the COVID bubble somewhat hurts its visibility and attractiveness to partners in our view.
But the most notable momentum is within the Snowflake Inc. ecosystem. Snowflake is moving fast to win the day in the data ecosystem. They're providing a single platform that is bringing different data types together – live data from systems of record and systems of engagement together with so-called systems of insight. These are converging and although others – notably Oracle Corp. – are architecting for this new reality, Snowflake is leading with ecosystem momentum.
Snowflake is not without its challenges, mind you. As it moves beyond being a simpler and better cloud data warehouse, and brings opportunities to partners, it also brings more complexity and consternation around where to focus. And it brings concerns to partners that their lunch will get eaten either by Snowflake or by another company in the ecosystem. This is perhaps an advantageous dynamic for Snowflake because it forces its ecosystem partners to focus on being best-of-breed, at least as it pertains to participating in the Snowflake ecosystem.
Further, a new type of data stack is emerging that comprises cloud infrastructure at the bottom, data and a platform-as-a-service layer for app dev, and it's enabling an ecosystem of partners to build data products and services that can be monetized.
Let's dig into that further in a moment.
You're also seeing machine intelligence and data being driven into applications. The data and application stacks are coming together to support the acceleration of physical into digital. It's happening right before our eyes. In every industry.
Cloud is evolving into 'supercloud'
We're also seeing the evolution of cloud. It started with the spread of software-as-a-service in the enterprise where organizations realized they didn't have to run their own software on prem. And it made sense to move to SaaS for customer relationship management or human resources, certainly email and collaboration and certain parts of enterprise resource planning.
Early infrastructure as a service really was about getting out of the data center infrastructure management business – call that cloud 1.0. And then 2.0 was really about changing the operating model and now we're seeing that operating model spill into on-premises workloads. Finally.
We're talking here about initiatives such as Hewlett Packard Enterprise Co.'s GreenLake and Dell Technologies Inc.'s APEX. John Furrier had an interesting observation that basically this is HPE's and Dell's Outposts. In a way, what HPE and Dell are doing is what Outposts should be.
We find that interesting because AWS' Outposts was a wakeup call in 2018 and a shot across the bow at the legacy players. And they initially responded with flexible financial schemes, but finally we're seeing real platforms emerge. We saw this at Discover and at Dell Tech World: early implementations of the cloud operating model on-prem. Honestly… consoles and billing similar to AWS circa 2014. But it's a start that will allow them to defend their respective turfs.
And players such as Dell and HPE have advantages with respect to their customer bases, their service organizations, their large portfolios  – very large in the case of Dell – and the fact that they have more mature and robust product stacks (for example in storage) and know how to run and support mission-critical enterprise applications on-prem. So John's comment was interesting that these firms are basically building their version of Outposts.
Listen to John Furrier's take on Amazon Outposts' challenge.
And this is setting up Cloud 3.0 or supercloud as we like to call it: an abstraction layer above the clouds that serves as a unifying experience across the continuum of on-prem, cross-clouds and out to the near and far edge.
Near edge, far edge and 'tiny edge'
The edge is as fragmented as ever, with examples like retail stores at the near edge, outer space as the far edge and "internet of things" devices as the so-called tiny edge.
Listen to SUSE's Keith Basil explain the tiny edge.
And no one really knows how the tiny edge is going to play out, but it's pretty clear that it's not going to comprise traditional x86 systems with a cool name tossed out to the edge. Rather, it's likely going to require a new low-cost, low-power high performance architecture, most likely Arm-based, that will enable things such as real-time AI inference at the edge. We've talked about this a lot on Breaking Analysis, so we won't double-click on this. Suffice it to say that it's very possible new innovations will emerge from the tiny edge that could eventually disrupt the enterprise.
Data protection as an adjacency to security: Whither VMware?
Two other quick observations. One is that data protection is becoming a much closer cohort to the security stack where data immutability, air gaps and fast recovery are increasingly becoming a fundamental component of a security strategy to combat ransomware and recover from other potential hacks or disasters. Veeam Software Inc. is claiming the No. 1 revenue spot in a statistical dead heat with Dell's data protection business… this according to IDC. And so that space continues to be of interest.
And finally… Broadcom Inc.'s acquisition of VMware Inc. will have ripple effects throughout the enterprise technology business. Many questions remain, but one other that John Furrier was contemplating recently: He said, "Imagine if VMware runs better on Broadcom components. And OEMs that use Broadcom run VMware better. Maybe Broadcom doesn't even have to raise prices on VMware licenses… maybe they'll just raise prices on the OEMs and let them raise prices to the end customer."
Interesting thought. Because Broadcom is so profit-and-loss-focused, that's probably not going to be the prevailing model… but we'll see what happens to some of the strategic projects such as Monterey and Capitola and Thunder. That's one of the big concerns because it's how OEMs – like the ones building their versions of Outposts – will compete with the cloud vendors on price/performance and processor optionality in the future.
How the data stack is changing
Let's come back to that data stack comment made earlier.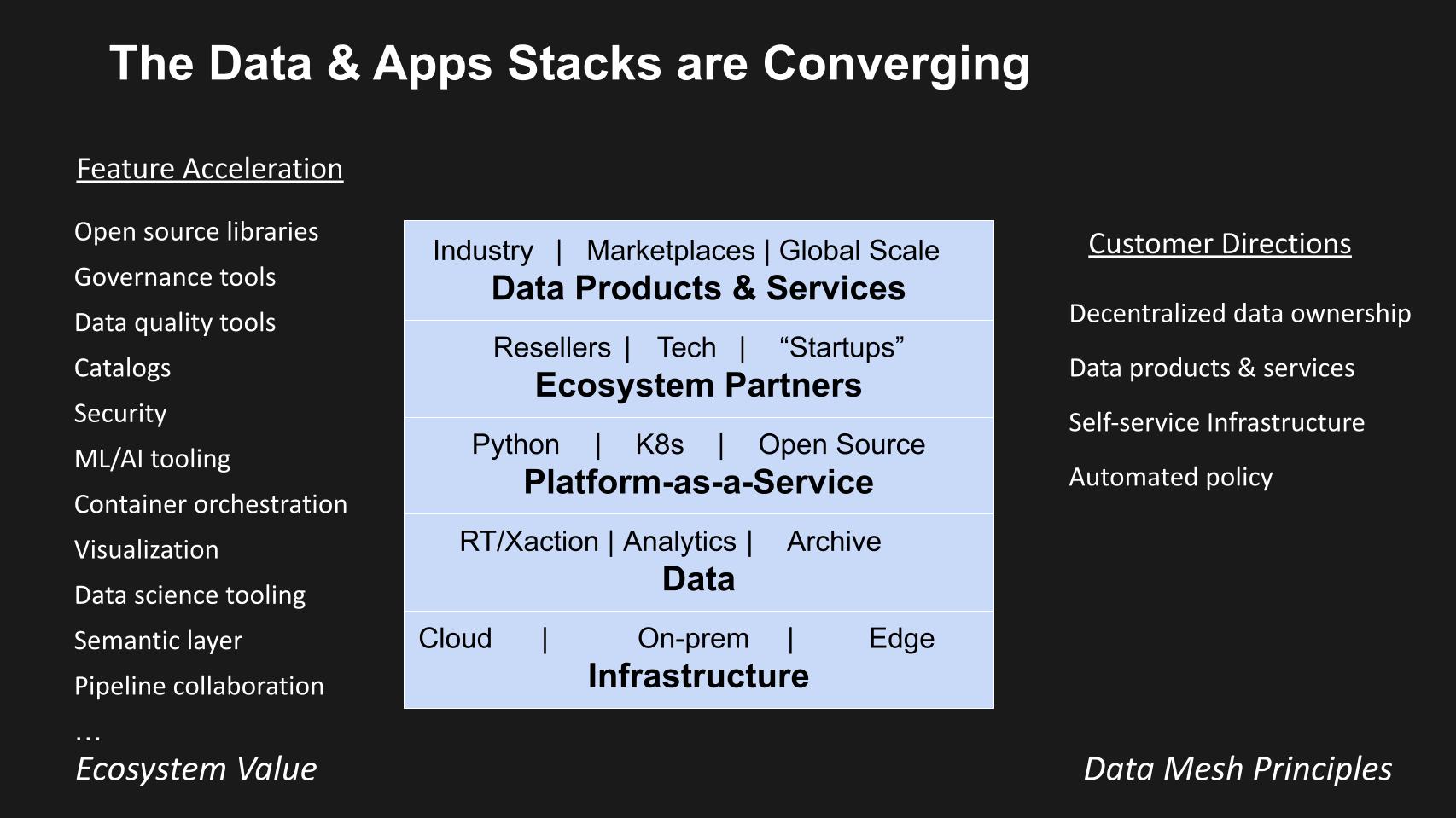 We talked earlier about how the big data ecosystem that once was coalescing around Hadoop became dispersed. There were several factors, including Cloudera Inc.'s fateful decision to hand over the community event, Hadoop World, to O'Reilly Media. O'Reilly co-opted the brand, changed the name to Strata + Hadoop World, then deemphasized the latter name and elbowed Cloudera out of the picture. O'Reilly eventually killed the event. It was a colossal failure in marketing for Cloudera, an innovator that got the entire big-data movement started.
But that wasn't the only challenge. Hadoop was complex, with too many tools to support, which bled companies such as Cloudera and Hortonworks Inc. dry. And then the cloud completely disrupted the ecosystem, which realized that cloud computing was a superior infrastructure option to on-prem white boxes. The partner ecosystem became more confused and fragmented. Some companies such as MongoDB successfully pivoted to the cloud and are thriving, as are many of the tools vendors. But it has been a long and sometimes painful journey.
A new data value chain is emerging – vibrant ecosystems are critical
And now the data value chain is re-forming and we think it looks something like the picture above, where cloud infrastructure lives at the bottom. We've said many times the cloud is expanding and evolving, and if companies such as Dell and HPE can truly build a supercloud infrastructure experience, then they will be in a position to capture more of the data value. If not, then it will go to the cloud players. Our bet is that initiatives such as GreenLake and APEX, along with similar but somewhat less visible options from the likes of IBM Corp., Cisco Systems Inc. and Lenovo Group Ltd., will allow these companies to successfully defend their positions in the market.
Whether they take the next step to fund and build out disruptive supercloud ecosystems is a much longer-shot bet.
Listen to Constellation Research analyst Holger Mueller discuss HPE GreenLake's progress.
Back to the stack: There's a live data layer that is increasingly being converged into platforms that not only simplifies (or eliminates) the movement and extracting, transforming and loading of data, but also allows organizations to compress the time to value. A good example Snowflake uses is taking years of the time it takes to develop a new drug and get it through the system.
There's a layer above that – the super-PaaS layer if you will – that must comprise open-source tooling. And then partners in the ecosystem will write applications and leverage platform APIs to build data products and services that can be monetized at the top of the stack.
So when you observe the battle for the data future it's unlikely that any one company can do this all on their own. Which is why we often joke that the 2020s version of a sweaty Steve Ballmer running around the stage screaming, "DEVELOPERS DEVELOPERS DEVELOPERS!!!" is now about "Ecosystem Ecosystem Ecosystem!"
Because when you need to fill gaps and accelerate features and provide optionality, the list of capabilities on the left side of the chart will come from a variety of places: catalogs, AI tools, data science capabilities, data quality, governance tools, visualization, semantic layers, data protection tools, security and so on.
And it should be of no surprise to followers of Breaking Analysis that on the right hand side of this chart we're including the four principles of data mesh popularized by Zhamak Dehghani – decentralized data ownership, data as product, self service platform and automated/computational governance (policy).
Now whether this vision becomes a reality via a proprietary platform like Snowflake or somehow is replicated via open source remains to be seen. History generally shows that de facto standards for complex problems like this will often emerge prior to open-source solutions, and that would be where we'd place our bets initially.
It's not a winner-take-all market – there's plenty of room for multiple players and ecosystem innovators. But winner will definitely take much more in our view .
Sizing up some of the major platform players
Let's close with Enterprise Technology Research data looking at some of the major platform players that talk a lot about digital transformation and world-changing or impactful missions.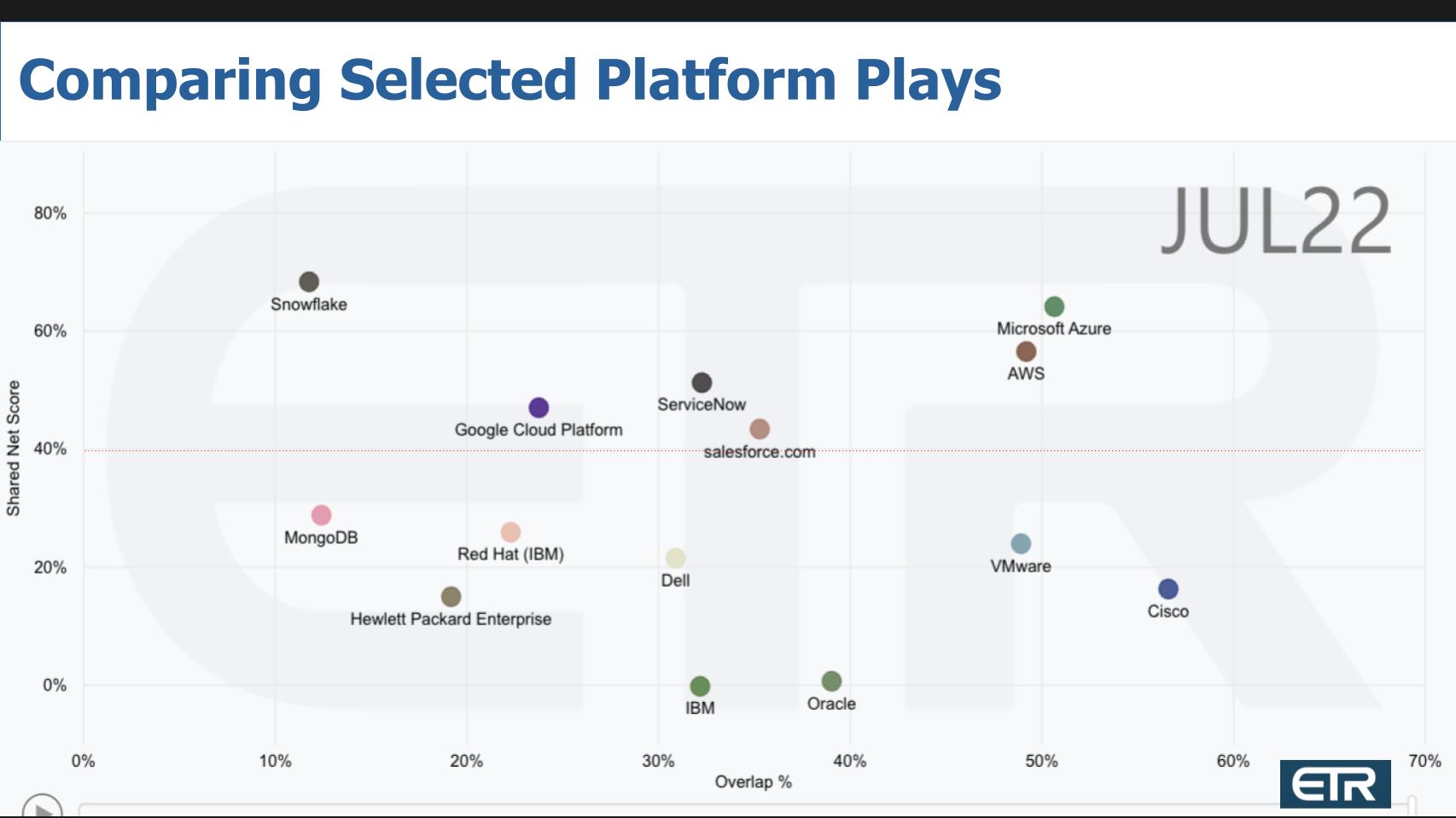 This XY graphic is a view we often show with Net Score on the vertical axis – that's a measure of spending momentum — and Overlap or presence in the ETR survey. That red dotted line at 40% indicates that the platform is among the highest in terms of spending velocity.
Which is why we always point out how impressive that makes AWS and Microsoft Corp.'s Azure – because not only are they large, the spending momentum on those two platforms rivals even that of Snowflake, which continues to lead all players on the vertical axis.
Although Google Cloud has momentum, given its goals and resources it's well behind the two leaders. And we've added ServiceNow Inc. and Salesforce Inc. – two platform names that have become the next great software companies, joining the likes of Oracle, shown here, and SAP SE (not shown), along with IBM.
We've also plotted MongoDB, which has real momentum as a company generally but also with Atlas – its managed cloud database as a service. And IBM's Red Hat trying to become the standard for application development in Kubernetes environments, which is the hottest trend right now in app dev and modernization.
And finally HPE, Dell, both of which we've talked about, and VMware and Cisco. Cisco is executing on its portfolio strategy and it's coming at cloud from a networking perspective and a position of strength. And VMware is a staple of the enterprise. Yes, there's some uncertainty with regard to the Broadcom acquisition, but one thing is clear: VSphere isn't going anywhere. It's entrenched and will continue to run lots of information technology for years to come because it's the best platform on the planet.
Of course, these are just some of the players in the mix. We expect numerous nontraditional technology companies to emerge as new cloud players. We've put a lot of emphasis on the data ecosystem because to us, that's really the mainspring of digital – a digital company is a data company. And that means an ecosystem of data partners that can advance outcomes like better healthcare, faster drug development, less fraud, cleaner energy, autonomous vehicles, smarter, more efficient grids and factories, better government and a virtually endless litany of societal improvements that can be addressed.
And these companies will build innovations on top of cloud platforms and create their own superclouds.
Keep in touch
Thanks to Stephanie Chan, who researches topics for this Breaking Analysis. Alex Myerson is on production, the podcasts and media workflows. Special thanks to Kristen Martin and Cheryl Knight, who help us keep our community informed and get the word out, and to Rob Hof, our editor in chief at SiliconANGLE. And special thanks this week to Andrew Frick, Steven Conti, Anderson Hill, Sara Kinney and the entire Palo Alto team.
Remember we publish each week on Wikibon and SiliconANGLE. These episodes are all available as podcasts wherever you listen.
Email [email protected], DM @dvellante on Twitter and comment on our LinkedIn posts.
Also, check out this ETR Tutorial we created, which explains the spending methodology in more detail. Note: ETR is a separate company from Wikibon and SiliconANGLE. If you would like to cite or republish any of the company's data, or inquire about its services, please contact ETR at [email protected].
Here's the full video analysis:
All statements made regarding companies or securities are strictly beliefs, points of view and opinions held by SiliconANGLE Media, Enterprise Technology Research, other guests on theCUBE and guest writers. Such statements are not recommendations by these individuals to buy, sell or hold any security. The content presented does not constitute investment advice and should not be used as the basis for any investment decision. You and only you are responsible for your investment decisions.
Disclosure: Many of the companies cited in Breaking Analysis are sponsors of theCUBE and/or clients of Wikibon. None of these firms or other companies have any editorial control over or advanced viewing of what's published in Breaking Analysis.
---
Show your support for our mission by joining our Cube Club and Cube Event Community of experts. Join the community that includes Amazon Web Services and Amazon.com CEO Andy Jassy, Dell Technologies founder and CEO Michael Dell, Intel CEO Pat Gelsinger and many more luminaries and experts.


[ad_2]

Source link